About Us
Our illustrious founder, Jamie, started Old School Miniatures with a simple and humble dream- to become the richest, handsomest and most powerful man in the world.
When that didn't seem likely, he settled for running a wargaming company with an Oldhammer aesthetic. After investing around 40k into sculpts, websites and novelty mugs with "World's Best Boss" on them, he had a business!
For those discerning collectors, wargames, RPG players or just fans of great-looking minis Old School Miniatures sells a staggering range of "proper" models. You know the ones we mean! No pretentious fiddly bits, just dramatic sculpts that are a joy to see on the wargaming battlefield with and a pleasure to paint.
We only sell models that we think are awesome, and that look like they could have fallen down the back of a sculptor's desk in the 1980's. Where possible, we make all our models out of proper, durable metal- and when we can't do that, we use the best quality resin we can.
We think our models are great, and we work with some amazing sculptors- including Kev Adams, John Pickford, Byron Harmon and Phil Hynes.
Basically, if we wouldn't be happy to paint or play with it ourselves, we won't sell it to you.
Our range includes hundreds of fantasy miniatures, like Throkki Thrice-Dammed and his mighty warhammer! Brave adventures ready to explore deep dungeons and dragons that are waiting to eat them. Giants, Dwarfs, and everything in between!
Or if Sci-Fi is your thing we sell crews to skirmish and squadrons to slaughter across the stars!
We're also proud to sell Wasteman minis sculpted by the scarily talented Jaycee Fairclough, and a bunch of awesome wargaming terrain to enhance your battlefield.
So, if you like your minis Old School, this is the place for you! Take a look around our site and take a trip back in time to the Golden Age of wargaming.
There's a slotta to see! (slotta? Lotta? get it? Ah never mind...)

For information on our scale, please see this handy blog post https://www.oldschoolminiatures.co.uk/blog/a-note-on-scale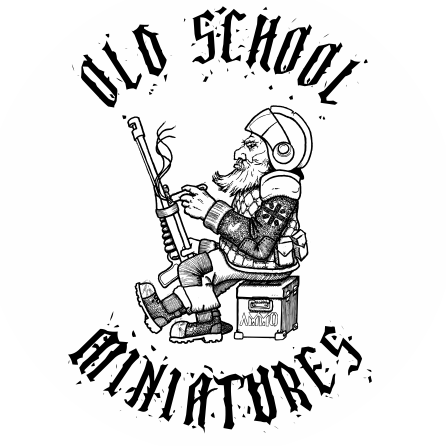 BORING, BUT IMPORTANT STUFF
All models are supplied unpainted and without bases.
Please allow up to 30 days before chasing for shipping.
Our models are not toys and are not suitable for children under 14 years of age. They contain lead and sharp points that may be harmful if chewed or swallowed.
Old School Miniatures is a trading name of The Old Hammer Miniature Company Limited
Registered Office Address:
3 The Acorns
Pennsylvania Road
Exeter
EX4 5EP
Company Number: 10169892
Registered in England & Wales